> Joint FIA GT3, GT300 and ST-X race to feature Pro, Pro/Am and Am classes
> Honda, Nissan and Toyota all pledge factory support
> European GT3 manufacturers, starting with Lamborghini, expected to support teams
> Pirelli confirmed as official sole tyre supplier
> Financial incentives for premier global GT3 championship winners
> Prize money totalling 100-million Yen defined
> Maiden Suzuka 10 Hours scheduled for 23-26 August 2018
SRO Motorsports Group, GT Association, event promoter Mobilityland Corporation and organiser Suzuka Motor Sport Club have revealed further details about the inaugural Suzuka 10 Hours during a joint press conference held at the circuit earlier today (August 25).
The race was first unveiled by its four main partners in early March, while SRO also confirmed last month that Suzuka would become Asia's leg of the 2018 Intercontinental GT Challenge. Now, further details have been agreed before the entry process opens on December 23.
Organisers hope the event's format will appeal to the large number of international drivers and teams – manufacturers and privateers alike – eager to compete at the legendary Suzuka International Circuit, as well as those inside Japan and Asia keen to test themselves on 'home' soil against some of the world's top GT talent.
The event will also be known as the 47th Summer Endurance Race as a continuation of the 1000-kilometre contests previously held for Super GT and Group C cars, as well as the five FIA GT/BPR rounds organised by SRO between 1994 and 1998. Inheriting the prestige and tradition of Japan's biggest GT meeting, which regularly attracts crowds of 80,000, will make it one of the jewels in global GT racing's crown.
CLASS STRUCTURE
As previously confirmed, the Suzuka 10 Hours brings together FIA GT3, GT300 (GT3 and JAF GT-spec in Super GT) and ST-X (Super Taikyu) supercars. They will battle for outright victory on equal terms thanks to SRO's trusted Balance of Performance (BoP) regulations, which already govern Super GT's GT300 class.
As well as overall victory, teams and drivers can also compete for Pro, Pro/Am and Am class honours, with a podium ceremony for the top-three finishers in each class being staged post-race. They'll be joined on the rostrum by the top-three teams whose line-ups comprise two or more Asian drivers.
Manufacturers will score points towards the Intercontinental GT Challenge. The race will not count towards either the Super GT or Super Taikyu championships.
FACTORY SUPPORT: BIG NAMES ALREADY CONFIRMED
Extensive numbers of FIA GT3-homologated supercars already compete in Japan and across Asia as GT300 and ST-X, as well as under their more widely known GT3 moniker. The region is therefore a key market for manufacturers, four of which have already pledged their factory support 12 months before the event.
Japanese interest is understandably high given Honda, Nissan and Toyota's domestic GT300 involvement. The exact teams, drivers and number of cars remains TBC, but fans can expect to see the new NSX, JAF GT-spec Prius and new-for-2018 GT-R NISMO entered in next season's race.
Most European GT3 manufacturers are also expected to support Japanese and overseas teams. The first of these is Lamborghini, a very popular brand in Japan and one no doubt buoyed by last weekend's Blancpain GT Series Asia victory at Fuji with an all-Japanese team and driver crew.
PIRELLI WINS TYRE SUPPLY TENDER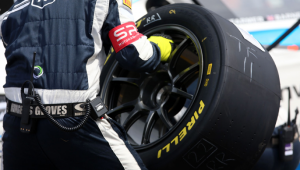 From the several manufacturers which tendered for the Suzuka 10 Hours contract, Pirelli was chosen to become the event's official sole tyre supplier.
The Italian company is already an official partner to SRO's GT3 championships and standalone events across Asia, Europe and America, as well as all other Intercontinental GT Challenge rounds and Australian GT Championship. Its P-ZERO tyres are therefore a vital component for calculating accurate BoP – especially important in this case – and already known to a great number of teams.
PRIZE MONEY AND FINANCIAL INCENTIVES
A total of 100-million Yen ($914,000) will be awarded at the Suzuka 10 Hours as a further incentive for teams and drivers not competing for Intercontinental GT Challenge points.
While the winners receive 30% of a total pot that incrementally decreases for the remaining positions, prize money has also been reserved for several 'special awards'. The top-six Asian teams will each receive a portion, along with the team that claims pole position, sets fastest race lap and is leading at the end of each hour (10 chances to win).
Prize money is also included as part of two team awards. The first recognises the top performer across the week rather than relying purely on finishing position, while the second honours the team that goes above and beyond in its approach to fan engagement and pit work. Both winners will be decided by a panel comprising SRO, GTA, Mobilityland and SMSC representatives.
Equally, all partners are keen to see international teams travel to Suzuka for the inaugural 10-hour race. As such, the winners from 2017's Blancpain GT Series, British GT Championship, ADAC GT Masters, Pirelli World Challenge, IMSA WeatherTech SportsCar Championship GTD class and Australian GT Championship will each receive financial support for airfreighting their cars and equipment to Japan.
SCHEDULE
The race weekend begins on Thursday with a free, fan-friendly Suzuka 10 Hours welcome event in the city and optional test session. That's followed on Friday by another non-compulsory test plus evening and night practice sessions before Saturday's three qualifying segments and final pole shootout for the top-20 drivers. Warm-up takes place the following morning ahead of the race, which begins at 10:30 local time.
QUOTES
SRO Motorsports Group Founder and CEO, Stephane Ratel, who was at Suzuka for today's press conference, said:
"We are now just one year away from the Suzuka 10 Hours Endurance Race. It's a very exciting time for SRO Motorsports Group and Mobilityland Corporation, as well as our GTA and SMSC partners, who have already begun working closely to ensure that the first joint GT3/GT300/ST-X race is a great success.
"Cars and drivers travelling from all over the world to race against Super GT teams for the first time, and at a circuit as respected as Suzuka, makes for a mouthwatering prospect. It will be a truly special occasion.
"Suzuka Circuit is revered across Europe, America and Asia, not only for its historic value but also its wonderful organisation. It is therefore the perfect setting to stage such a special GT race. I am already looking forward to opening this fantastic event here in 12 months' time."
Mr Susumu Yamashita, Mobilityland Co. Ltd. President, added: "There is now one year to go until the Suzuka 10 Hours Endurance Race. We are preparing for the event step by step with cooperation from GT Association and SRO Motorsports Group. We will also collaborate with local people to turn the Suzuka 10 Hours into a big summer event in the area. We look forward to everyone's support organising a race that features a full grid of GT3 cars from around the world. I'm sure this is something that race fans will enjoy."