ITOCHU ENEX TEAM IMPUL SF 14 # 19 Sekiguchi 2nd year successive victory!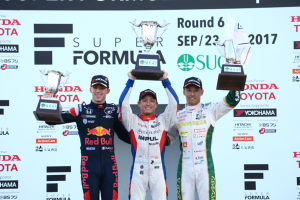 From the left Pierre Gasly, Yuhi Sekiguchi and Kazuki Nakajima
Japanese Super Formula Championship Round 6 Race was held Sportsland SUGO (Miyagi Pref.) September 24(Sun). In the free practice this morning, #18 Kobayashi achieved the top time. On the other hand, #19 Sekiguchi hurt the left front suspension due to a crash. However, just before the race, they finished repairs on the grid and won the SUGO championship for the second consecutive year with the power of the whole team.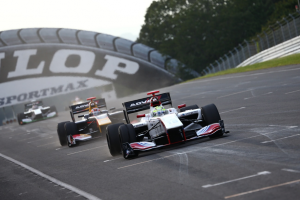 Race
The final race was held with 68 laps under wonderful autumnal weather. In this race, there was no pit-in obligation. However, fuel economy was critical to finish with a no-pit in. As with last year's race, it was predicted that there were many drivers who run running only with refueling.
Due to its characteristics of the SUGO circuit, overtaking on the course was not easy this round. Therefore, attention was paid to the timing of pit-in, the amount of refueling, etc., among others for strategy.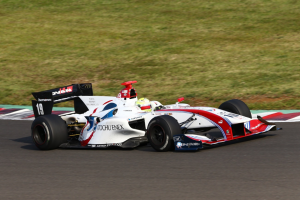 #19 Yuhi Sekiguchi
As for the timing of the pit-in, which was drawing attention, it divided the light and dark of the race.  In the early part of the race, #64 Nakajima, #20 Jann Mardenborough, #10 Tsukakoshi, #36 Andre Lotterer and so on pitted in relatively quickly and did refueling only.
Meanwhile, # 7 Felix Rosenqvist, #18 Kobayashi, #16 Yamamoto and some teams decided to operate a no-pitted in. They tried running without refueling. Only Felix Rosenqvist made this strategy successful. Kobayashi kept within the point range somehow although his gas was empty. Yamamoto ran slowly just before the end of the race, although he could not get any points.
Sekiguchi, Pierre Gasly, and some drivers, pitted at the end of the race. Regarding Sekiguchi, in the race last year he lost all the margin by SC but he continued running as fast as qualifying, and got the full victory.
In this race as the leader, he also had a fascinatingly stable run. At the 42nd lap, after pitting in and returning to the course only with refueling, it was a temporary slow run just before the end of the race, and Pierre Gasly who was in 2nd position, had a difference of 0.7 seconds only. However, Sekiguchi regained, the pace and after that the race ended as it was. Sekiguchi commented "I drove relaxed because I was confident that I could keep my position."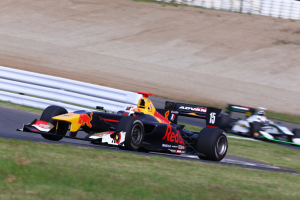 #15 Pierre Gasly
As a result, the current point ranking from 1st Ishiura, 2nd Pierre Gasly to 3rd Felix Rosenqvist were only 5 points away, and the title battle became completely unpredictable.
The final round of this season will be two races at Suzuka Circuit on October 21 (Sat) and 22 (Sun).
Temperature:26℃,Road Temperature:41℃,Weather:Sunny, Road condition:Dry