#5 Oyu released his frustration and winning the second win of this season!!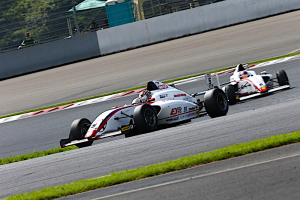 #5 Oyu
 FIA-F4 Championship 2017 10th round race was held on Sunday, August 6th at the Fuji Speedway in Shizuoka Prefecture. At the Yesterday's race. #5 Oyu took pole position but couldn't enter the final race due to machine trouble. However today he started from pole and took the 1st podium. This is his 2nd victory in this season.
We conjectured that all drivers would have started a tremendous battle for the top spot. #5 Oyu who solved his machine trouble and his tires condition were better than other drivers, also he started final race from pole. #5 Oyu had favorable conditions for today's race.
However, behind him, point leader # 6 Sasahara, and defending champion # 1 Miyada, yesterday's winner # 8 Kakuda, got the podium in yesterday's race. Further behind, was 5th # 62 Hiraki, # 35 Kohno, who is in good condition and getting the highest ranking this season with 4th place yesterday's race. Furthermore, Fuji Speedway has a long straight road of about 1.5 km and a continuous technical section of the medium and low speed corner, but since it is a course that is relatively easy to overtake. So attention was paid to the race from the start to the checker.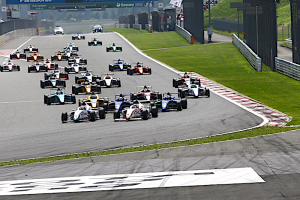 At the start
<Final Race / Weather: Sunny, road conditions: Dry>
Today's race was battle over 15 laps and the formation lap started at 8:40 am right on schedule. As expected it was the # 5 Oyu who led the race from the start.
He had a great battle for the top position with # 6 Sasahara from the start at front row. Even though the two driver's battle continued from start to checkered glag, the gap was only 0.2 seconds at the final lap. Finally # 5 Oyu got away and won the second win this season since the AutoPolice Round.
Behind them, # 35 Kohno who won the highest ranking in this season made a good start and climbed to 4th place. Although there were scenes developing in battle for the 3rd position with #1 Miyata.
Before end of the race, 4 drivers tried to reach 4th position.  Despite his strenuous efforts, #8 Tsunoda overtook # 35 Kohno and # 35 Kohno couldn't raise the ranking from yesterday. As a result, the upper ranking became #6 Sasahara in 2nd position and 3rd was # 1 Miyata, the podium finally became a familiar face.
# 5 Oyu who made pole to win commented that "I challenged this race yesterday's frustration has been a source of motivation for me as well. Next race in Suzuka, as there are many people who support me at home truck, I'd like to practice further (toward next race)".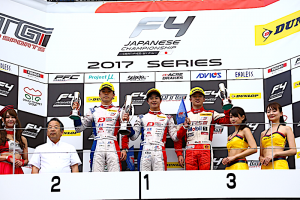 From the left #6 Sasahara, # 5 Oyu and # 1 Miyata
The 11th round and 12th round of the next race will be held at Suzuka Circuit after 3 weeks on August 26 (Sat) and 27 (Sun).