# 1 Miyata come-from-behind victory! It is the 3rd victory in this season.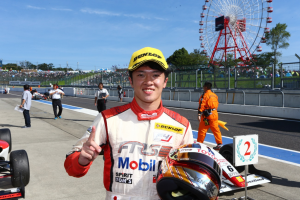 # 1 Miyata
FIA-F4 Championship 2017 Round 12 race was held on August 27 (Sunday) in Suzuka Circuit (Mie Pref.).# 1 Miyata who started in 4th place succeeded with a come-from-behind win, marking his third victory. As the result, the gap of series point with the point leader #6 Sasahara and #1 Miyata shrunk to only 13 points. The title battle is narrowed down to 3 drivers (#6 Sasahara, #1 Miyata and #8 Tsunoda).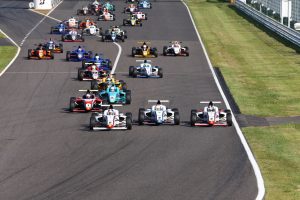 Just after the start
 <Race / Weather: sunny, Road conditions: dry>
Round 12 race was held over 10 laps from 8:05 am. Suzuka Circuit is the home course for drivers (Sasahara, Kakuda etc) who are from SRS (Suzuka Circuit Racing School), and they won 9 times in this season. Like yesterday's race, the crowd's attention was drawn to whether SRS's alumnus will win the Round 12 too.
From the beginning of the race, there were many movements. Point leader # 6 Sasahara had been suffering from unexplained troubles from yesterday, but succeeded in the start and emerged as the top leading the race. Meanwhile, # 1 Miyata starting 4th position ran aggressively and attacks the others machines.
From the top to 4th position, drivers had close battles with a difference of a few seconds. They were lined up bumper to bumper until the final lap.  At that time, the battle for top intensified.
#1 Miyata who was in 2nd position took over the top position from # 6 Sasahara at the 1st turn. Miyata succeeding defended the attack from behind and won the top of podium. He had been a long-awaited podium with smile. "I want to stick to the series championship every day," he commented with the strong enthusiasm.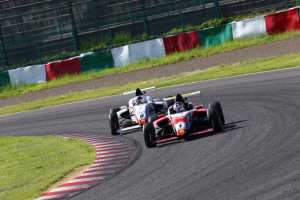 #1Miyata and #6 Sasahara
After the Suzuka round, there was no change in the point ranking, and the title battle was to be narrowed down to 3 driver, # 6 Sasahara, # 1 Miyata, and # 8 Tsunoda.
The next rounds will be held at Twin Ring Motegi on November 11th and 12th after two month and half intervals. The season will change. It will see the road condition and temperature changed significantly.  We would like to hope that not only the three people who are fighting for the title but also all the drivers will finish the series with their own satisfaction.