<In ST-X Class, #99 Y's distraction GTNET GT-R gave a heated battle and took out the victory>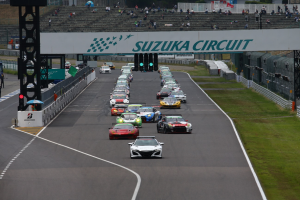 Start
On June 11th, Super Taikyu series Round 3 "Suzuka S-tai Surival" 4 hour endurance race was held at the famed Suzuka Circuit. At the beginning of the race the sky was covered with clouds but the sun soon broke through. The race was held under dry conditions over 4 hours with all classes having a mixed start. The 50 cars that made it through the qualifying rounds showed up to the final race. Each car had a big speed difference and huge lap time difference in this race. All teams came with an aggressive approach to the race.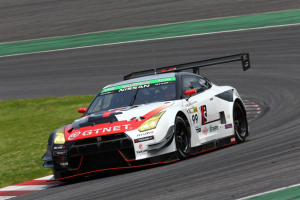 #99 Y's distraction GTNET GT-R
From the beginning of the race, #1 Three Bond Nissan JIDOSHA DAIGAKKOU GT-R and #8 ARN Ferrari 488 GT3 fought a tough battle agains each other down to the very end for the second position. On the 18th lap, the gap between both team's lap time was only four tenths of a second. A chance of position between the two cars was expected, however that wouldn't be the case as the safety car was deployed due to the #112 CARGUY ROGER DUBUIS HURACAN GT3 busting its tire and having a wheel come off. The safety car ran for about 15 minutes, allowing #1 to change their strategy at the time and built up a huge lead. The race saw an exciting battle on Lap 70. The distance between #3, now in second position, and #99, in first place, got closer. On the 80th lap, #3 finally overtook #99 but it was short-lived as after one corner #99 was back in first place again. The final result was #99 won the race with #3 in second and #8 rounding up the podium in third.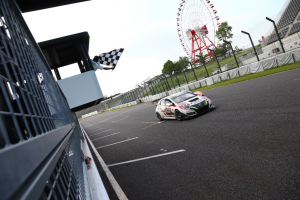 #98 Modulo CIVIC TCR
In ST-R Class, #10 Racingline PERFORMANCE GOLF TCR had the pace to fight closer with the #45 LIQUI MOLY RS3 LMS. After the safety had come out, #45 maintained their top position, exceeding other drivers while #10 slipped to the back. However, when #45 went in to change their tires they gave first place to #98.
With only 8 minutes remaining in the race, #19 BRP Audi Mie RS3 LMS passed #10 and finished in third.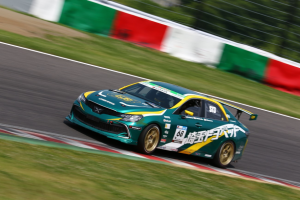 #36 Saitama Toyopet GreenBrave Mark X
In ST-3 Class, toward the end of the race, #36 Saitama Toyopet Mark-X had a neck-to-neck race with #36 Muta Racing TWS IS350. #36 closed the gap down to as little as 0.15 second but was unable to make a move before the end of the race, having to settle for second place.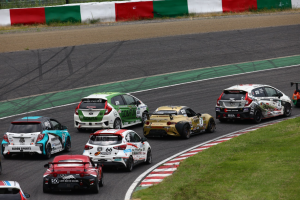 ST-5 class
On July 15th and 16th, the next round of Super Taikyu will be held at Autopolis in Oita Prefecture. We are looking forward to yet another exciting endurance race.