#8  ARN Ferrari 488 GT3 Red horse survied endurance race!!
 Super Taikyu Race Rd.5 FUJI SUPER TEC race was held on Sunday, September 3 at Fuji Speedway in Shizuoka prefecture. It is currently the longest official race in Japan, being a 10 hour endurance race.
Even though STO did not accept spot entry, it was held featuring 59 cars from seven different classes of vehicles. The busy grid so far is a rare sight and made fans happy.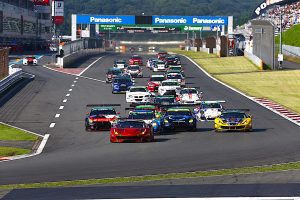 The highlight of the Fuji round was not only the length of time but also weight handicap. As one of the factors that most significantly influences the direction of this round, weight handicap has plagued each powerhouse team from the second game of the series. It was reduced by half in this round, but since this system was not implemented in the last race, all the teams were even at Fuji Speedway, making it very hard to win.
In this race, the factors that plagued each team were varied, but in particular there are two points that are commonly mentioned: "it's long 10 hours" and "mixed run with 7 classes".
First, not at all, "it's long 10 hours". Because it was three times longer than usual Super Taikyu Race, the burden on each machine became bigger. And they faced various machine troubles.
Especially in the ST-TCR class, two Honda CIVIC (#97,#98 Modulo CIVIC TCR) and Audi R8 #45 LIQUI MOLY RS3 LMS went into a stall. #98 was very close to championship, was interrupted to get it by not only #10 Racingline PERFORMANCE GOLF TCR but also it's long time and distance.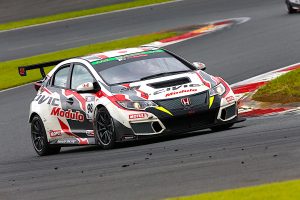 Second point is Super Taikyu Race is usually divided into two groups taking into account the difference in vehicle character, but this round it will be a mixed race with 7 classes as well as Suzuka round.
Between FIA-GT3 machines ST-X class and ST-5, there are about 100 km/h difference in speed at the top. So each driver was required to run mutually respectfully. Although most of them adhere to manners, it is racing that something that cannot be assumed usually happens.
Today, Weather: sunny then cloudy / Road surface condition: dry, it was done at relatively easy temperature. Despite this, multiple crashes occurred from the early stage due to ST-5 class vehicles. Starting with that, confusions continued as expected from the beginning of the race.
ST-5: # 88 which put championship in check, started at pole position. It can also be said that the special rule of Fuji SUPER TEC prevented it to get it. That special rule is that all vehicles cannot enter the pit during the time of SC. # 88 had to enter the pit unavoidably and was penalized for 60 seconds imposed and miss the top of podium.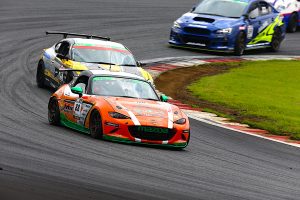 On the other hand, ST-4 class which fought the closest battle to last year's super TEC in the largest category of super taikyu was also a close fight again this year.#93 SKR ENGINEERING SKR ENGINEERING ings S2000 which was in top and # 86 TOM'S SPIRIT 86 which won 3 straight games from Rd.2 in Sugo did a great battle.
It continued until just after the end of the race, But #93 had an emergency pit-in hit by a break tire. #86 had luck on their side and got a brilliant victory. With this, it decided to be a class champion without waiting for the final race in OKAYAMA.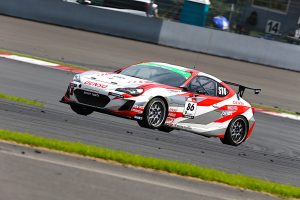 In the confusion of the race, applause of a blessing from the audience and the other teams were sent to ST-X # 8 ARN Ferrari 488 GT3, who fulfilled brilliant pole-twin with steady running. Finally, we'd like to thank all the teams who finished 10 hours and gave us excitement.
The next race is final of this season and will be held at the Okayama International Circuit on October 14 (Sat) and 15 (Sun). Which team will bring work to a successful conclusion? It will be the most notable race. In addition, next year's Super Taikyu Race Fuji round is planned to be a 24-hours endurance race named "Fuji SUPER TEC 24-hours Race". 24-hours race here at the Fuji Speedway have held only twice in the past. If "Fuji SUPER TEC 24-hours Race" realized next year, 24-hours race comes back to Fuji speedway for the first time in 50 years. We cannot wait for that.