#8 ARN Ferrari 488 GT3 got pole position for all rounds in 2017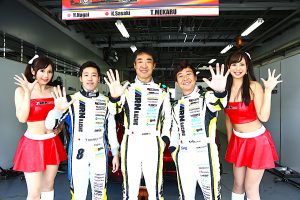 Super Taikyu Race Rd.5th Fuji SUPER TEC qualifying was held on Saturday, September 2 at Fuji Speedway in Shizuoka prefecture. #8 ARN Ferrari 488 GT3 got pole for all rounds in this season, and they won last race at Auto Police (Oita pref.).
The Super Taikyu Race Fuji round was originally four hours, but the duration has been gradually extended little by little, this time it is 10 hours. This is Japan's longest  official endurance race.
In this Fuji round, there are four classes that may decide the champions without waiting for the final race in Okayama (four classes ▷ ST – TCR class: # 98 Modulo CIVIC, ST – 2 class: # 59 DAMD MOTUL ED WRX STI, ST-4 Class: # 86 TOM'S SPIRIT 86, ST-5 Class: of # 88 Murakami Motors MAZDA Roadster ND). Will other teams be able to prevent to get championship of these four teams?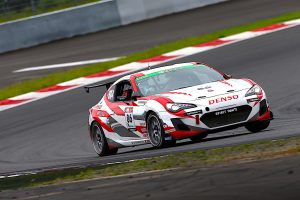 In addition, it is notable that registration of D driver is permitted as its consuming race. This D driver is also possible with a platinum driver (professional driver and accredited driver based on STO certification criteria).
In fact, in ST-TCR, Three-time GT500 champion Wakisaka will drive #10 Racingline PERFORMANCE GOLF TCR, and rally legend Arai will drive # 45 LIQUI MOLY RS 3 LMS. Then Taniguchi was entered in ST-2 class # 59 DAMD MOTUL ED WRX STI we can see that all team are seriously aiming at winning.
<Qualifying:Weather:fine/Road condition:dry>
Qualifying started at 12:45 pm on time. In the greatest class of Super Taikyu race is fight with FIA GT3 machines, every driver had good lap times near to the course record in the ST-X. From top to the 4th team, total time with A driver and B driver gap was only 1 second. As the result, #8 ARN Ferrari 488 GT3 got the pole position. This is the 5th pole position in serial order.
In ST-TCR class, #10 Racingline PERFORMANCE GOLF TCR got the pole position for the first time. A driver: Philippe Devesa and B driver: Mitsuyama had consistent runs. In addition, it kept three-time GT500 champion Wakisaka as the C driver, they may separate positions from following the team in tomorrow race.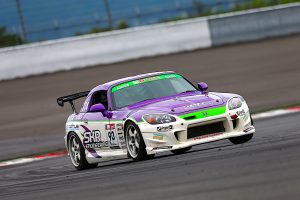 In ST-2 class, #59 DAMD MOTUL ED WRX STI welcomed mighty helper driver Taniguchi, got the pole position. They may win tomorrow as it is, then take the championship.
In the same way, determination for championship immediately ST-4 class, #93 SKR ENGINEERING ings S2000 beat the strong teams #86 TOM'S SPIRIT 86 and got the pole position. However, the gap of them was only 0.340 seconds. We will notice that strategy of each team tomorrow.
In ST-5 class, it is likely to finalize the championship, too. Top team of class ranking, #88 MURAKAMI motors MAZDA roadster ND got the pole position, having the huge lead with the 2nd team more than 2 seconds.
The Fuji Super TEC race begins on Sunday, 8:00 AM.