KONDO RACING # 3 Nick Cassidy did the "Perfect Rap" and got the first pole position! Course record updated.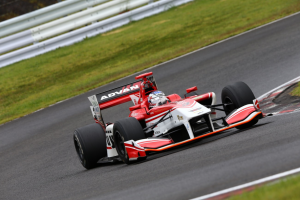 #3 Nick Cassidy
KONDO RACING # 3 Nick Cassidy showed the "Perfect Lap" and got his first pole position! Also the course record was updated. It was also Pierre Gasly's second consecutive victory after Round 5.
After the interval of two weeks from Autopolis, Japanese Super Formula Formula championship, Rd.6 qualifying was held at Sportsland SUGO (Miyagi Pref.) September 23, 2017(Sat).
When the tension increased, # 3 Nick Cassidy (KONDO RACING) updated the course record and won the first pole position as the championship finally. It was the order of # 19 Yuhi Sekiguchi (ITOCHU ENEX TEAM IMPUL) in the second place, and # 15 Pierre Gasly (TEAM MUGEN) in the third place.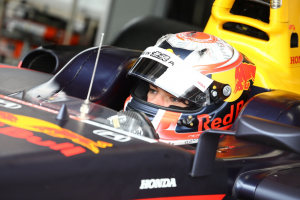 # 15 Pierre Gasly
In this race, the tires are returned to one spec. As with the race from Round 1 (Suzuka) to Round 3 (Fuji), it will be a battle only with medium tires. It takes longer to warm up, and like last year all machines started their attack after the 4th lap.
SUGO not only has a short course length of 3.704km, but also almost no escape zone. A slight mistake leads to spinning and a course out, so it is said to be one of the most challenging courses in Japan. There is the possibility of red flags and confusion. How the team took clear laps became a very important qualifying session.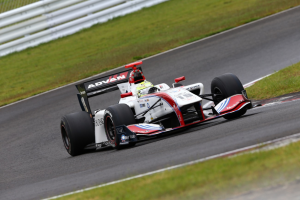 #19 Yuhi Sekiguchi
Q1 started at 13:15. Each machines' timing in to the track. Pole sitter from the previous race # 40 Nojiri lose Q1 contrary to expected. Others, # 16 Yamamoto, # 4 Yamashita, # 8 Oshima, and # 50 Kogure lost Q1.
Although the number of Q2 decreased more than Q1, it was a difficult session with only a real lap attack of only 7 minutes. Who was doing very well here was #36 Lotterer. He beat out the top time with a brilliant attack.
Meanwhile, # 7 Felix Rosenqvist, who is also active in Formula E, lost the Q2. "The car was nice, but I got caught in traffic".  He commented back on his driving. Others, defending champion # 1 Kunimoto, # 64 Nakajima, #41 Izawa, # 65 Narain Karthikeyan, # 10 Tsukakoshi also lost Q2.
In Q3, #3 Nick Cassidy changed the machine setting with Q1 and Q2, and beat the attack lap with 1'04.910, updating the course record. "It was a perfect lap" and looked back on his driving.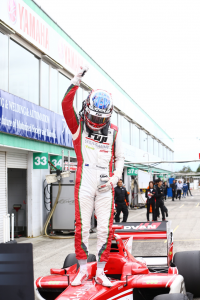 #3 Nick Cassidy
The Race will be held tomorrow on September 24(Sun) 14: 10 with 68 laps. Who going to control this title? Don't take your eyes off!!
Result
1st  3 Nick Cassidy KONDO RACING 1'04.910
2nd  19 Yuhi Sekiguchi ITOCHU ENEX TEAM IMPUL 1'04.988
3rd  15 Pierre Gasly TEAM MUGEN 1'05.080
4th  36 Andre Lotterer VANTELIN TEAM TOM'S 1'05.089
5th  18 Kamui Kobayashi KCMG 1'05.090
Air Tempareture21℃. Road surface temperature22℃.
Weather:Cloudy. Road condition:Dry